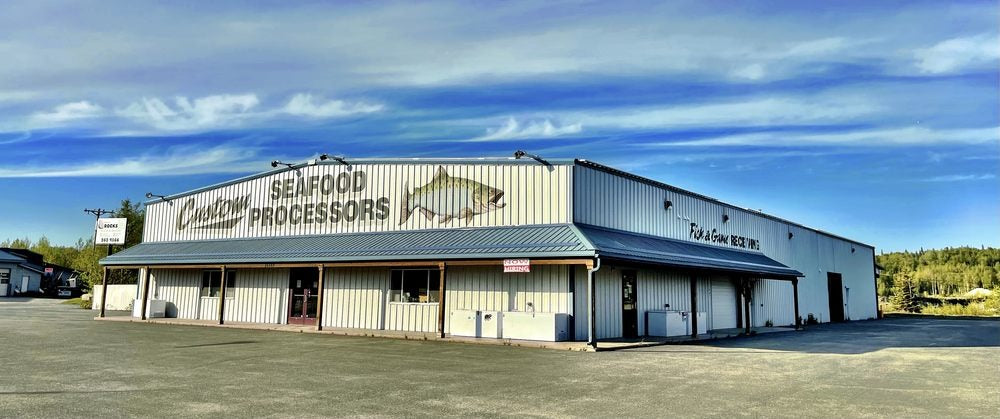 LUCAS FARMER – GENERAL MANAGER
Born and raised in Arizona, Lucas was brought up hunting and fishing with his father. This experience drove his deep-seeded connection to the great outdoors and nature. He spent the majority of his free time during his teenage years fishing many bodies of water across Arizona. He started his own family in Arizona then moved to what is now his forever home, Alaska, in 2010. Since then, he has found a passion in saltwater fishing in Homer, Seward, and Whittier, Alaska as well as fishing the world-renowned Kenai River right in his home town of Soldotna. He has a core understanding of business and a passion for community. Custom Seafoods is truly a family and he is excited to have the opportunity to be a part of it. As General Manager, he is tasked with ensuring that everything we send out the door to our loyal customers is of the highest quality and freshness possible and will work tirelessly to source the best products from the best, highest integrity local fisherman to promote sustainability of our bountiful fisheries here in Alaska.
DEREK BOSSIE – PRODUCTION MANAGER
Derek grew up in the small fishing town of Cordova, Alaska, home to the world-famous Copper River salmon. Subsistence hunting and fishing was his way of life from a young age, setting the foundation for his love of the industry. With commercial fishing being the prominent industry of Cordova, it's only fitting that he began his career fishing early on and has fished most of the commercial fisheries all around Alaska. He then transitioned to a wholesale seafood supplier in Anchorage, Alaska where he gained invaluable knowledge of how to select, keep and deliver the highest-quality sushi-grade seafood possible. After many years he moved his family to the legendary Kenai Peninsula, home of the Kenai River and the halibut fishing capital of the world. He set roots in Soldotna, Alaska in 2011 and has been paramount to the operations of Custom Seafoods with his wealth of knowledge and experience. He quickly moved up the ranks to Production Manager and is now responsible for providing our customers with the highest quality product possible. From sport-caught fish, retail seafood, custom game processing and retail smoked products that we proudly make in-house, Derek has you covered!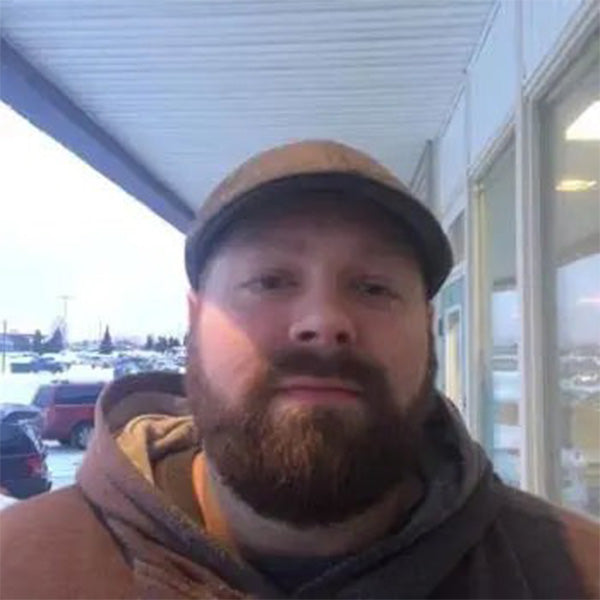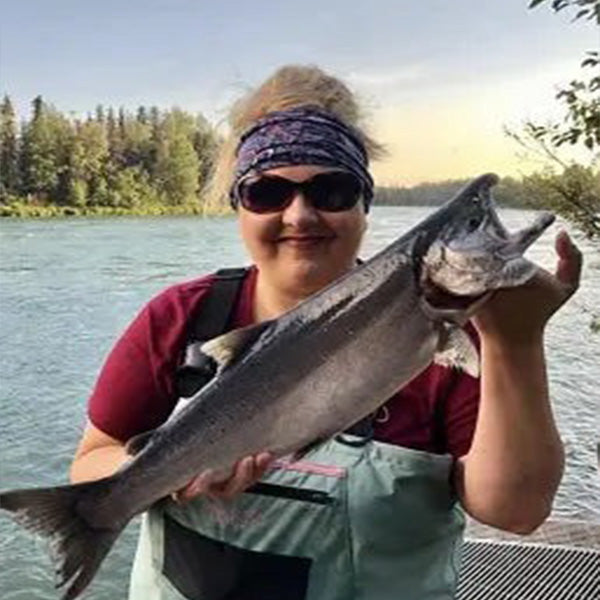 ROBIN MOORE – SALES MANAGER
Robin moved to Alaska in 2011 with her husband and 2 sons from Tennessee. She comes to us with a background in ministry and customer service, and most recently as the librarian in the small town of Kasilof, Alaska right here on the Kenai Peninsula. She provided community outreach through different programs and organized family activities for the community to provide a safe outlet for the local youth. She is a devoted wife and mother who prioritizes her faith and her family. As a family they enjoy Basketball and fishing, spending most of their free time engaged in either activity depending on the season. She is also a photographer, taking advantage of the amazing canvas that is Alaska as well as photographing all her son's basketball games. She feels a deep connection to the outdoors, from the mountains of Alaska to sunny tropical beaches and anywhere in-between. Custom Seafoods is honored to have her as an integral part of our operations and rely on her knowledge and expertise in every aspect of our business, not just what her title suggests. She works tirelessly to provide the greatest customer service possible to our amazing customer base and once you get the opportunity to work with her you will see why we are thrilled to have her in our family.
DALTON BUSH – PROCESSING SUPERVISOR
Dalton is the only member of our team that was born and raised in our quaint little fishing town of Soldotna so he knows a thing or two about fishing our local waters and what makes our town so great. He spent his childhood in true Alaskan form; fishing, hunting and trapping with his grandfather. Fast forward to today, where he spends his free time instilling those same core values into his two children and spending as much quality time possible with his young family. We have been fortunate to have Dalton for 4 seasons now, starting as a cutter on the fish processing line working his way up to Processing Supervisor. I guarantee you won't find anyone that can fillet a salmon as fast or as accurately as Dalton but we welcome you to try.  He loves the fast-paced environment and seems to thrive on the long days of summer, keeping our operations running smoothly. When you enjoy any of our many products that we offer, you can rest assured that Dalton has had his hands in making sure it's the best available on the market. We celebrate him, his accomplishments, and his tireless work ethic and look forward to many more years with him on our team.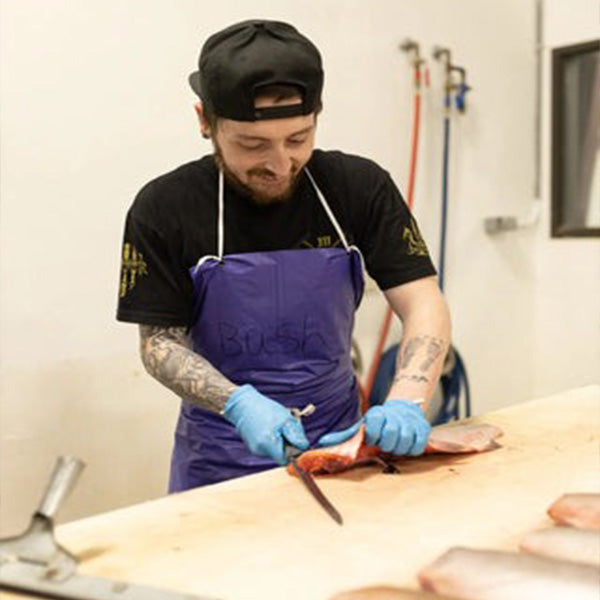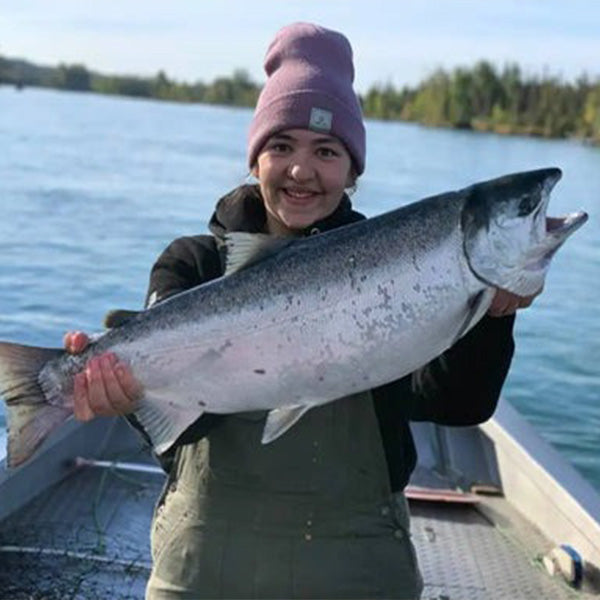 BAILEY SMITH – BOXING/RETAIL CLERK
Although Bailey wasn't born in Alaska, you'd never know it. After moving from North Carolina in 2009 at the age of 7, she has made it her own personal mission to embody the spirit of a true Alaskan through her hobbies and lifestyle and she emits the true essence of the small-town charm that you find in Soldotna, Alaska. She was raised on the Kenai Peninsula and had many influences that taught her the ways of Alaska, from professional fishing guides, family friends and willing strangers she met on the banks of the mighty Kenai River. Because of her own tenacious spirit and endless wonder, she has made herself into valuable resource for visitors, always willing and able to provide guidance and knowledge to make their experience the best it can be. She came into the Custom Seafoods family in 2018, still in high school, and has gained valuable experience in every aspect of the business in order to provide support and knowledge to all departments and to all our customers. She has done it all; from filleting your fresh catch, to ensuring top quality and care is provided to each and every order that comes through our doors, to meticulously boxing both your fresh catch and online orders to preserve freshness and quality. Her deep-seeded passion for all things Alaska and for the people that grace us with their business is one of the many reasons we at Custom Seafoods consider ourselves lucky to have her. She is a long-standing asset to our daily operations and to the success of our business.
ERICKA THOMAS – ONLINE SALES REPRESENTATIVE
After moving from Oregon in 1997, Ericka has made Alaska her home. She has been in the customer service industry for over 16 years, only taking a hiatus from the industry to be an amazing wife and mother to her 3 children. Custom Seafoods has been graced with the privilege of bringing her onto the team as our Online Sales Representative where she shines as the voice of the company to our beloved customer base. She loves spending time partaking in the things that really make Alaska great: Halibut fishing, camping, hiking… she has a true love of nature and the outdoors so settling into a career that mirrors that love was a natural fit for her. She also makes time to volunteer at her children's schools, solidifying her position as a pillar of our small town. Since bringing her into the Custom Seafoods family, Ericka has proven why she is an asset to the team and to our customers. We are excited to have her and are proud to have her on the front lines providing the best possible service to our customers and community.